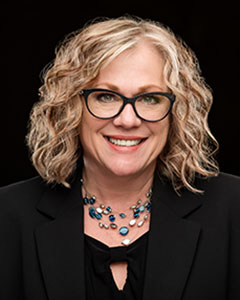 St. Paul, Minn. | November 13, 2023 – Lisa Franxman was named the 2023 Legacy Award Winner by the Dakota County Regional Chamber of Commerce (DCR Chamber) at their annual Business Excellence Awards Celebration.
The Legacy Award is given to a dedicated business professional, who has made a lasting impact on their companies, and the economic vitality of Dakota Country region for their leadership, mentorship, and business acumen. They are recognized as a leader in their industry, amongst peers, and demonstrated commitment to the industry as well as their community.
"I was very humbled and grateful to be nominated and selected for the Legacy Award from the DCR Chamber. I follow in the footsteps of many great leaders that have received this award in the past, in which I admire and respect," Franxman says. "It is an incredible honor to receive the 2023 Legacy Award this year."
Franxman is highly involved in the community and served as the 2023 Minneapolis Aquatennial Captain. Additionally, Franxman is on the Board of Directors of the DCR Chamber, Citizen Advisory Board for the Dakota County Sheriff, Treasurer for the Rosemount Rotary Club, and Treasurer for the DCR Chamber. She is an advocate for education and opportunity to help others achieve their potential.
"Lisa has been a force within Dakota County for many years and has been an amazing volunteer for the Dakota County Regional Chamber, serving on our Board for ten years, our Foundation Board for four years, and as DCR Chamber treasurer, where she helped us navigate through the pandemic," said Jon Atloff, President and Chief Mission Officer of DCR Chamber. "Her selection as Legacy Award winner for 2023 is very well deserved and earned."
In July 2023, Franxman joined the Drake Bank team as vice president, commercial banker/SBA specialist, to assist the Bank in growing its SBA lending area as a preferred SBA Lender and developing commercial relationships in the community.
"We are so proud of Lisa and the work she has done in the community," said Scott Swenson, Chief Banking Officer at Drake Bank. "Her commitment to leadership, service, and community is in direct alignment with Drake Bank's values. We are thankful to have Lisa on our team and her continuous efforts to build better futures for clients and communities. Congratulations on this well deserved award."
Congratulations to Lisa Franxman on this prestigious award, and thank you for all you do for the community and Drake Bank.
---
Drake Bank is a purpose-driven, independent community bank in St. Paul. Founded in 2002, the Drake team focuses on building authentic relationships and building a better future for the local communities. Drake team members work individually with each client to provide business, consumer, cash management, and mortgage services to help them reach their goals. Outside of the Bank's traditional banking services, it partners with mission-aligned financial technology companies to expand its mission to other communities. Start building a better future. Learn more at drake-bank.com.