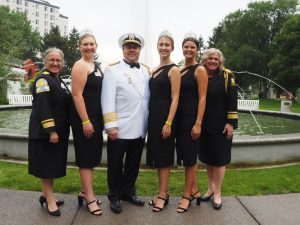 The Aquatennial Ambassador Organization is a dynamic development organization that inspires young Minnesota women to achieve extraordinary futures by creating opportunities through work with their communities and AAO. Aquatennial Ambassadors visit festivals across North America each year to foster relationships, promote the Aquatennial festival, and volunteer for other deserving organizations.
We sat down with Commodore Scott Swenson and Captain Lisa Franxman, who are also team members at Drake Bank, to hear about their experience with AAO.
What made you want to be a part of the Aquatennial Ambassador Organization?
Scott Swenson: I was contacted by a former Commodore to join, and after I learned about the AAO, I was intrigued and knew this would be a once-in-a-lifetime opportunity. What drew me into joining was getting to travel across the country, meet people from different communities who have turned into friends, and learn their traditions.
Lisa Franxman: The three pillars of the AAO are Volunteerism, Leadership, and Community.  All these things I hold in high regard.  I also wanted to be part of mentoring the selected young ladies.  I think it's essential to have mentors in your life that help shape and mold you.  Lastly, I have never really traveled around Minnesota. I wanted to see all the different communities and celebrate with them.
What were some of your duties as Commodore and Captain?
Swenson: As Commodore, my duties were to represent the Aquatennial, escort the Queen, and participate in parades and other events. I also had the opportunity to present an Honorary Commodore Award to a member of each community selected by the community for outstanding service, leadership and volunteerism.  The Queen of the Lakes or one of the princesses had the responsibility to hand out the Queen's charm, which is a charm that was  give to ambassadors from other communities to invite them to the Aquatennial Celebration and to honor the relationship between the Aquatennial and their community.
Franxman: As a Captain, my duties were to escort, mentor, and financially support my assigned princess and to represent the Minneapolis Aquatennial in the different events and communities. We often divide to represent AAO at various events, allowing me to participate as Captain with both Aquatennial princesses and the Queen of the Lakes.
Why is volunteering and community involvement important to you?
Swenson: Volunteering is how I have been wired my whole life. I see it as a privilege to celebrate and give back to communities. I have been a part of 20+ boards as Chair and Vice Chair, athletic associations, and actively involved in my church.
Franxman: I think it's crucial to give back to our communities, get involved, and #MakeADifference, our Commodore's theme for the AAO 2023 team. Volunteering teaches many different skills, including leadership, communication, and compassion, and is also rewarding as you are helping others.
What was your favorite event you participated in with AAO?
Swenson: My favorite event was Fiesta San Antonio in Texas. It is a 10-day-long celebration with events ranging from art fairs and various parades to race tracks and music. We had the opportunity to go on a race track, where the Queen got to sit in the driver's seat of a race car and explore the Alamo.
Franxman: I would have to say the Pageant of Hope. This was a coronation for young ladies with disabilities. There were 50 candidates, and they were given the opportunity to gain confidence, sparkle, showcase their talents, and have fun. At the end of the program, they each received a crown that they proudly wore.  It was a very heartfelt program that impacted our whole team.
What kind of growth have you seen with the other members of AAO?
Swenson: Our royal family is truly a family. We have spent so much time together, and it was exciting to see how everyone grew in their roles and life. Public speaking improved in everyone, and everyone was open to trying new things. I developed hyper-organization ability when helping plan out cars, hotels, travel info, networking events, etc.
Franxman: There is more confidence with all of us with public speaking.  Some are gifted with this ability, but it can be a bit scary for others. I believe that all of us can go up on stage and speak to a crowd with much more confidence than when we started. I also think communication skills, in general, have grown. When you need to coordinate with many people, like our team and the behind-the-scenes people, we must be on the same page. The two princesses and the Queen have also learned about networking in a professional setting, organizational skills, and dealing with difficult situations.
What other upcoming community events can we expect to see you participate in?
Swenson: With my reign ending, I will continue participating in various volunteering events through my community and work. I am an ambassador for Men Wear Pink to help raise awareness and money for breast cancer research, and I am always looking for other ambassadors to join. I will also join the Dakota County Regional Chamber board as chair in January 2024.
Franxman: My reign as Captain ended on July 22, 2023. However, my daughter was just crowned a Miss Farmington Ambassador on June 20, so I will be helping the Farmington Ambassador program by chaperoning, driving, or whatever else they need support on.  So yes, there are more parades in my future, but more on the sidelines supporting my daughter.