We play many roles in our personal lives – as children, colleagues, managers, parents, mentors, role models, the list goes on and on. The same is true with the roles that we share in our community – we are neighbors, customers, members, and volunteers. Our lives are laced together by each of the roles and the time commitment we put into them. And as we add more of these roles into our lives, the priorities and time commitment change and adapt.
Much is the same in our business lives – the cornerstone organizations in our community play different roles for our community members, government, groups, and businesses. However, each of these connections builds a better, smarter, and stronger community.
For example, at Drake Bank, we have relationships with our clients, their businesses, business partners, and organizations. Each of the roles we play is unique to the relationship we have built – but without the relationship, our impact in the community would be different.
One of the connections that Drake Bank has in the community is with the Minnesota Bankers Association (MBA). Our connection with MBA and fellow member banks allows us to learn, adapt, and better serve our clients in Minnesota (and beyond). However, MBA's focus isn't only about banking regulations, but also about the importance of banking for community development, growth, and success.
As a community bank, Drake Bank has always been focused on the relationship side of banking. Our team thinks beyond the transaction, getting to know each of our clients and understand their business and goals. We are advocates and participants in our community.
That is why we are excited to have joined 80+ member MBA banks for MBA's Community Impact Month. In the month of September, each participating member bank has agreed to participate in at least one community service activity to support charitable organizations with its employees.
Impact
Sheridan Story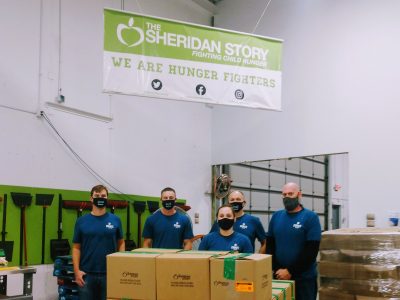 Over 200,000 children in Minnesota live with food insecurity, meaning they do not have reliable access to food. The Sheridan Story works to fight child hunger in our community by filling the food gap during the weekends, summers, and extended breaks. Due to COVID-19, the Sheridan Story has increased food output by 400% and delivers 100,000 meals a week to children in Minnesota.
Eight team members volunteered during a food packing event at Sheridan Story for 3 hours. Our shift packed 2,964 bags of food, which provided over 11,500 meals to families and children in need.
Neighborhood House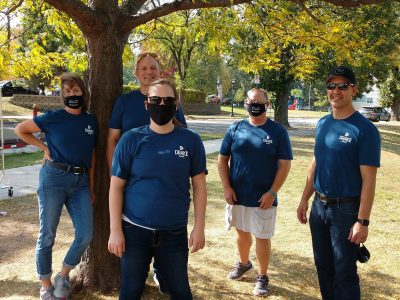 Since its founding in 1897, Neighborhood House has helped families move from "survive" to "thrive." Currently, Neighborhood House serves over 15,000 people in St. Paul by supporting families in times of transition or need by helping them gain skills, knowledge, and confidence to thrive in diverse communities. Neighborhood House offers housing stability, parent and early childhood education, literacy and adult education, food support, and family center services.
Six team members participated in a Produce Pick-up Event, which provided large amounts of fresh produce to people and families in need. Each event distributes approximately 6,000 pounds of food to over 150 families.
---
#BanksBuildMN #WeAreMNThisTogether