Maintaining a productive and motivated workplace is essential in today's fast-paced and competitive business world. At Drake Bank, we pride ourselves on building better futures for our clients and strive to build a fun and inviting workplace for our team members. From team building and volunteering to potlucks and educational activities, we always find new ways to bring our team together.
Volunteering
Being a community bank, we want to be involved with surrounding communities as much as possible, and volunteering is a great way to do it. Our team enjoys lending a hand when needed for volunteering events.
Over the years, we have volunteered with the Kids In Need Foundation to pack backpacks and teacher boxes, Feed My Starving Children to pack meals for kids worldwide, Neighborhood House to donate food and assist at their food market, and many events with The Open Door.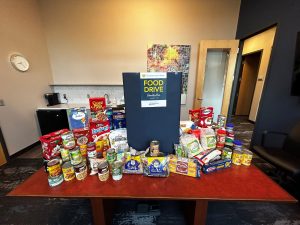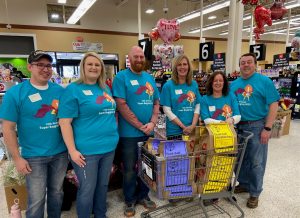 We also support and partner with local chambers, such as the Dakota County Regional Chamber of Commerce, the MN Hmong Chamber of Commerce, the Midway Chamber of Commerce,  and the Saint Paul Area Chamber of Commerce.
Team Building
Every other week, during our morning team huddles, a team member leads the team in a new team-building activity that recognizes the importance of a team, how individuals bring their talents to the team, and having fun together. For example, we drew names from a hat and wrote thank you notes to that team member; we each made paper turkeys that are displayed at our teller line; and have learned about each other's strengths and weaknesses.
Team Wins
We love celebrating big and small wins for the Bank and team members. We have a box where team members can submit 'Team Wins', whether it be closing a big loan and thanking the team who worked it together or recognizing the work that went into planning a team event. Each week, they are read at our morning team huddles so we can celebrate together.
Monthly Activities
To celebrate team members' birthdays and anniversaries, we treat them to snacks such as cake, cookies, and bagels that coordinate with fun holidays.
To keep our internal team culture alive, we organize fun activities such as bingo, costume and ugly sweater contests, potlucks, jersey days, and so much more!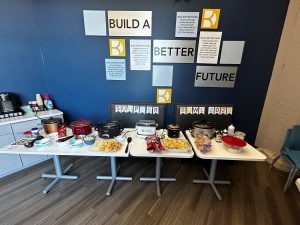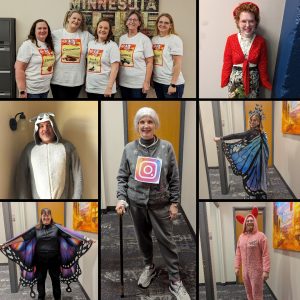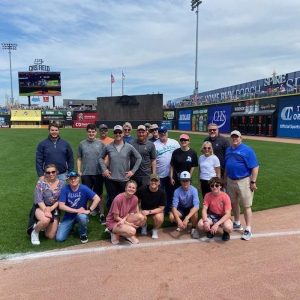 We are fortunate to have a great team and enjoy being able to celebrate between all the hard work they do. A fun workplace is a win-win situation for team members and employers by boosting morale and enhancing productivity in a positive environment where everyone can thrive.