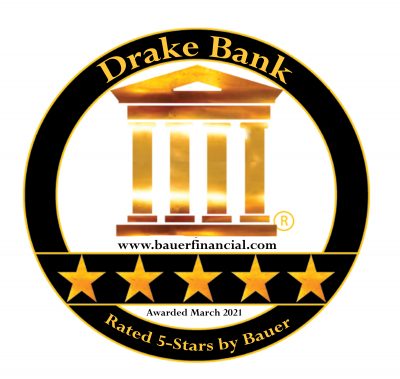 St. Paul, Minn. | May 10, 2021 – BauerFinancial, Inc. – the nation's premier bank rating firm – has awarded Drake Bank the highest (5-Star) rating for financial strength and stability. The 5-Star rating is proof that Drake Bank excels in areas such as capital adequacy, profitability, asset quality, and more.
"This is indeed reflective of Drake Bank's dedication and commitment, not only to its clients but to the entire community," reflects Karen Dorway, president of BauerFinancial. "Community banks, like Drake Bank, have been on the front lines doing what is necessary to help their neighbors and friends. This is the type of devotion you will only find in a community bank."
BauerFinancial's Bank star ratings are based on December 31, 2020, financial data compiled from call report data reported to federal regulators. The data includes capital ratio, profitability/loss trend, delinquent loans, chargeoffs and repossessed assets, market versus book value of investment portfolio, regulatory supervisory agreements, CRA rating, and history data and liquidity.
"The Drake Bank team is focused on building a better future for our communities by being an advocate and resource for our clients and neighbors," said Greg Larson, President & CEO at Drake Bank. "We are honored to be awarded as a 5-Star Community Bank by BauerFinancial."
---
Drake Bank is a purpose driven independent bank in St. Paul. We were founded in 2002 by a group of successful entrepreneurs committed to helping others succeed for the shared prosperity of their community. Our 70+ founders invested their own money to fund the first business loans and many are still shareholders today. Start building a better future. Learn more at drake-bank.com.
---
Bank and Credit Union data compiled from financial data for the period noted, as reported to federal regulators. The financial data obtained from these sources is consistently reliable, although; the accuracy and completeness of the data cannot be guaranteed by BauerFinancial, Inc. Since 1983, BauerFinancial has relied upon this data in its judgment and in rendering its opinion (e.g. determination of star ratings). BauerFinancial, Inc. is not a financial advisor; it is an independent bank research firm. No institution can pay for or opt-out of a BauerFinancial rating. Star-ratings are all available for free at bauerfinancial.com.